March for Science
When:
2017-04-22T00:00:00-04:00
2017-04-23T00:00:00-04:00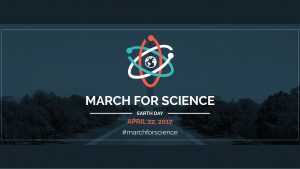 In an era of fake news and alternative facts it is more important than ever to have strong, objective scientific research as a basis for our actions. Unfortunately the scientific community is under attack from budget cuts, censorship and other threats. To show support for science many people are marching this Earth Day – April 22nd. As with many marches the main event will be in Washington D.C. but sister marches are taking place locally.
Montpelier is having a rally on the Statehouse lawn from 12:00-1:30pm.  Burlington is marching from the Royal Tyler Theater at 5:00pm down college street to Waterfront Park for a rally. Rutland is having a rally at the Rutland Free Library from 10:30-12:30pm and Brattleboro is hosting a rally from 12:00-5:00pm at Positive Geek (12 Flat Street).
For more information about these events including speakers and activities visit https://marchforsciencevt.wordpress.com/ or email sciencemarchvt@gmail.com.
Find them on Facebook:
Burlington, VT  – https://www.facebook.com/groups/marchforsciencevt/
Montpelier, VT – https://www.facebook.com/events/102666180280224/
Brattleboro,VT  – https://www.facebook.com/events/249226995487530/
Rutland, VT – https://www.facebook.com/events/203788693454457/