People's Climate March – DC & Montpelier
When:
2017-04-29T00:00:00-04:00
2017-04-30T00:00:00-04:00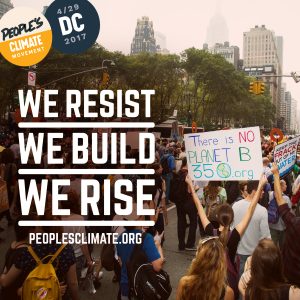 On April 29th, on the 100th day of the Trump administration, people will be gathering all over the country to show their support for climate action and their resistance to policies that would take us backward. If you are interested in traveling to D.C. the Vermont Natural Resources is taking a bus with its members and 350.org is sponsoring several buses. Members of VNRC can ride an overnight bus to D.C. for the People's Climate March by emailing climatemarch@vnrc.org to reserve a seat. Seats are $125 per person, roundtrip and payment is due by Friday, April 7th. To become a member or renew your membership, go to https://join.vnrc.org/, or become a member and attend our Wild & Scenic Film Festival for only $20. Purchase tickets for Wild & Scenic here: http://vnrc.org/event/2017-wild-scenic-film-festival/#more-12309. If you would like more information about the VNRC bus email climatemarch@vnrc.org. If you can't join VNRC to DC, grab a bus with our friend's from 350Vermont to DC. For more information visit generally see the People's Climate March website, 350 VT and VNRC.
If traveling is not an option, a sister march will be taking place in Montpelier from 1-4pm that Saturday. The Vermont event is being organized by a diverse coalition of Environmental, Justice, Equality, and Faith groups including The Sierra Club, 350VT, Outright Vermont, VPIRG, Rights and Democracy, VNRC, and Vermont Interfaith Power and Light. For more information visit their Facebook Event Page. Please RSVP so organizers can get an accurate head count! We saw with the women's march just how much energy and people power is here in this small state and we plan to harness it!