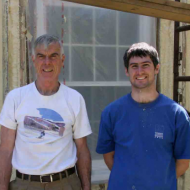 James Hand's 1940s home was using  1,100 gallons of oil each year, so in 2009 he hired a Home Performance with ENERGY STAR® contractor through Efficiency Vermont. The contractor performed a comprehensive energy audit on his home and, shortly thereafter, undertook the recommended improvements.
The improvements were:
Adding foam insulation to box sills and the full length of basement walls
Applying 20 inches of cellulose insulation throughout the entire attic
Air-sealing throughout the home, tested with a blower door.
The total project cost was $8,277. These improvements reduced the air leakage in his home by 38% and dramatically reduced his heating bill. Before the project, he was spending $3,970 for heating, after saving 670 gallons a year he only spends $1,548 an annual savings of $2,422.
Read more about this project on the Community Energy Dashboard Hand Home in Manchester, VT.