16th Annual VECAN Conference 2023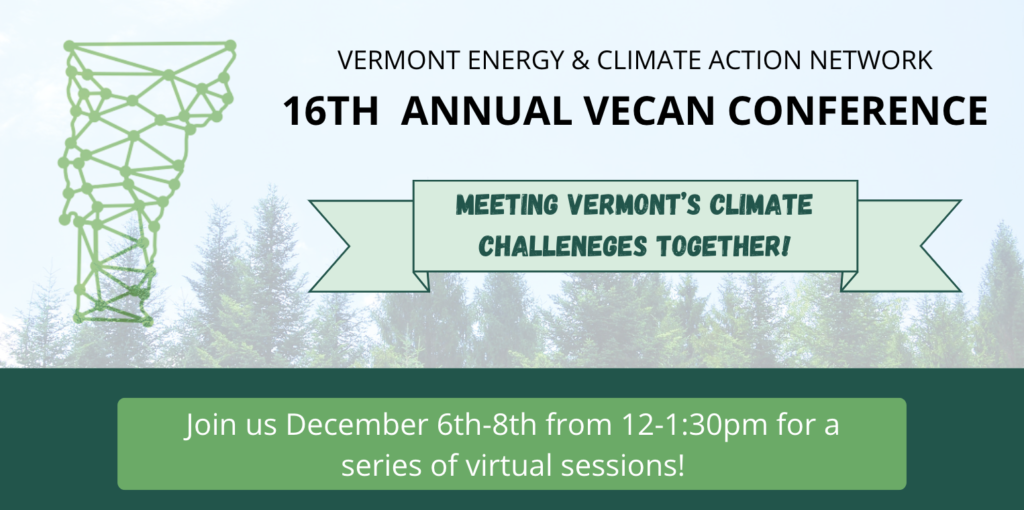 Join us at the 16th Annual VECAN Winter Conference, where leading insights, expert panels, and collaborative sessions await. From exploring imminent state and federal funding opportunities in clean energy and climate resilience to engaging in a Legislator Roundtable with key policymakers shaping Vermont's environmental future, VECAN's winter conference is a unique opportunity to gain crucial insights and connect with community, agency and legislative leaders.
This three-day virtual event is your chance to navigate the dynamic landscape of potential funding for sustainability initiatives, ask legislators direct questions, and learn from the successes of town energy committees. The VECAN Winter Conference provides a unique opportunity to connect with peers, learn from diverse perspectives, and leave with practical insights for community initiatives. Engage in interactive sessions, share experiences, and gather innovative approaches to drive positive change in your community. Don't miss out on this opportunity to drive positive environmental change and propel your energy-related projects forward. Join us in shaping a sustainable future through meaningful connections and collaborative learning.
---
Accessing and Understanding the Many New, Needed Climate Funding Opportunities
Wednesday December 6th, Noon-1:30 pm
There are many new state-administered federally funded programs intended to advance clean energy, climate and resilience progress. This session will overview some of the biggest opportunities at our doorstep and on the horizon, from the Carbon Pollution Reduction Grant program to the High-Efficiency Electric Home Rebate Act and far more. This session is intended to help understand that landscape of opportunity by overviewing many of the important new programs and resources that communities, households, and businesses might tap for support to help make investments in efficient, clean energy technology or resilience solutions.
---
Legislator Roundtable on Clean Energy, Climate and Resilience Solutions
Thursday December 7th, Noon-1:30 pm
Our collective combustion of fossil fuels continues to exacerbate our planet's precarious health, and we've baked in planetary disruption that came home to roost this past summer with devastating floods– and huge, costly consequences for Vermont and Vermonters. Policy makers are gearing up for the 2024 legislative session with a focus on advancing many critical solutions to cut carbon and help communities adapt and become more resilient in a warming world. Don't miss the opportunity to hear from legislators at the forefront of shaping energy and environmental policy in Vermont about what they expect to advance, from moving to 100% Renewable Energy Standard, to a robust suite of resilience and adaptation measures to a push to make Big Oil pay for the harm their products have caused.  This session will be interactive and offer an opportunity for town energy committee leaders to ask legislators questions.
Facilitator: Linda Gray, Norwich Energy Committee
Panel: Representative Laura Sibilia, Vice Chair Environment & Energy Committee; Representative Gabrielle Stebbins, Co-Chair of the Climate Solutions Caucus; Senator Andrew Perchlik, Member Transportation Committee and Vice Chair of the Appropriations Committee
---
Town Energy Committee Peer-to-Peer Roundtable
Friday December 8th, Noon-1:30 pm
Leadership at the local level is the linchpin to making the progress we need to truly transform our dirty, outdated energy system at the scale and pace required, as well as help all Vermonters survive, thrive and stay resilient in a warming world. This session is intended to celebrate, lean into and share local leadership lessons learned – and challenges faced – to continue to strengthen grassroots efforts. This session will serve as a forum for town energy committees and community leaders to engage in meaningful discussions and gain practical insights on how communities have navigated the challenges of community-driven energy initiatives. It will also provide a platform for collaboration and knowledge exchange, ultimately empowering attendees to drive more effective and impactful energy initiatives in their own towns.
Facilitator: Anna Guenther, Vital Communities
Panel: Jenevra Wetmore, Sustainable Woodstock Energy Action and Transportation Group; Jesse Pollard, Hartford Energy Commission; Jim Emerson, Brandon Energy Committee